DESIGNED FOR SHARING
Looking to send a delicious treat, or indulge yourself? We've got you covered! From our award-winning bread dippers to delicious, hand packed foodie gifts and hampers, here at Charlie & Ivy's we're passionate about creating delicious, simple to use treats, perfect for sharing.
UNIQUE FOODIE GIFTS
Elevate your gift giving this festive season with Charlie & Ivy's! Uncover a world of culinary delights designed to satisfy even the most discerning foodies.
DELICIOUS GIFTS DIRECT TO THEIR DOOR
Looking to treat that foodie in your life? Explore our wide range of delicious foodie gift boxes and hampers, perfect for any occasion. We'll handwrite your gift message and send direct, it's never been so simple! Check out our bestsellers below...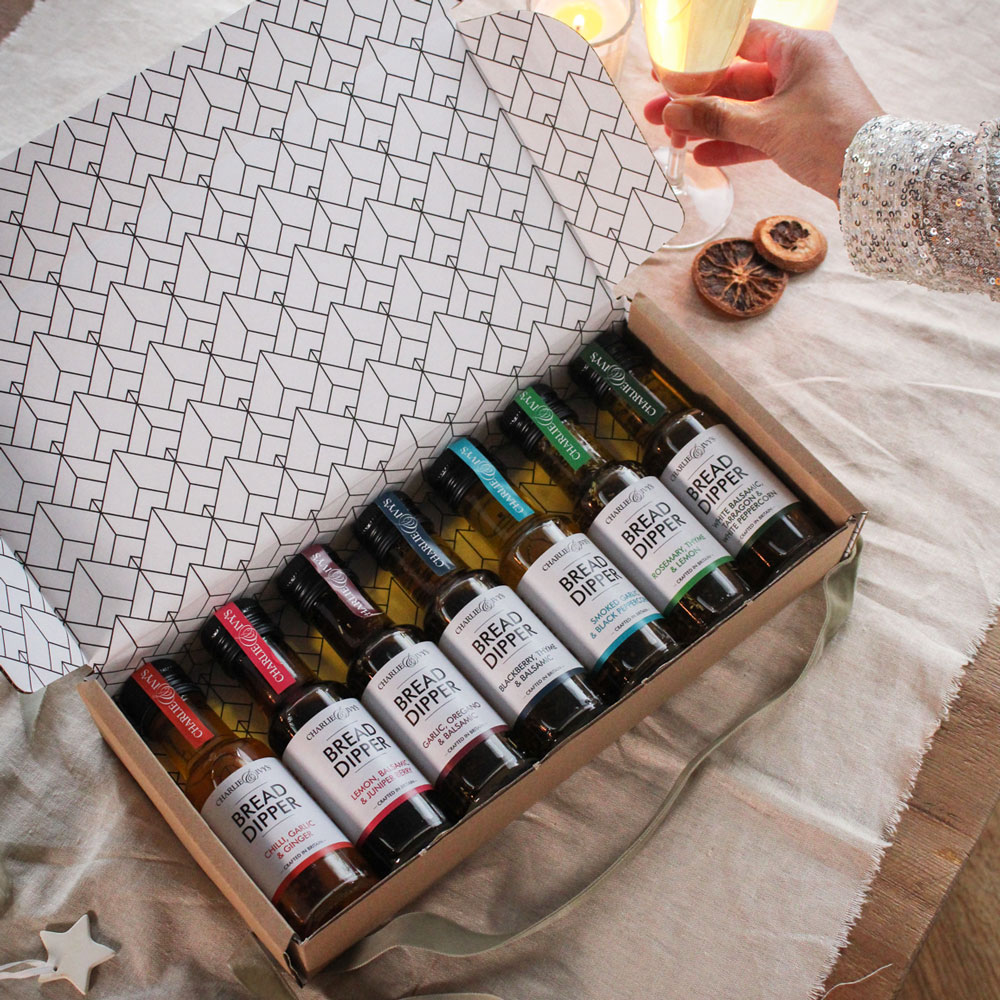 Bread Dipper Tasting Set
Our best selling gift box is guaranteed to impress. Packed up with 7 different bread dipping flavours, great for those who have everything!
£30.00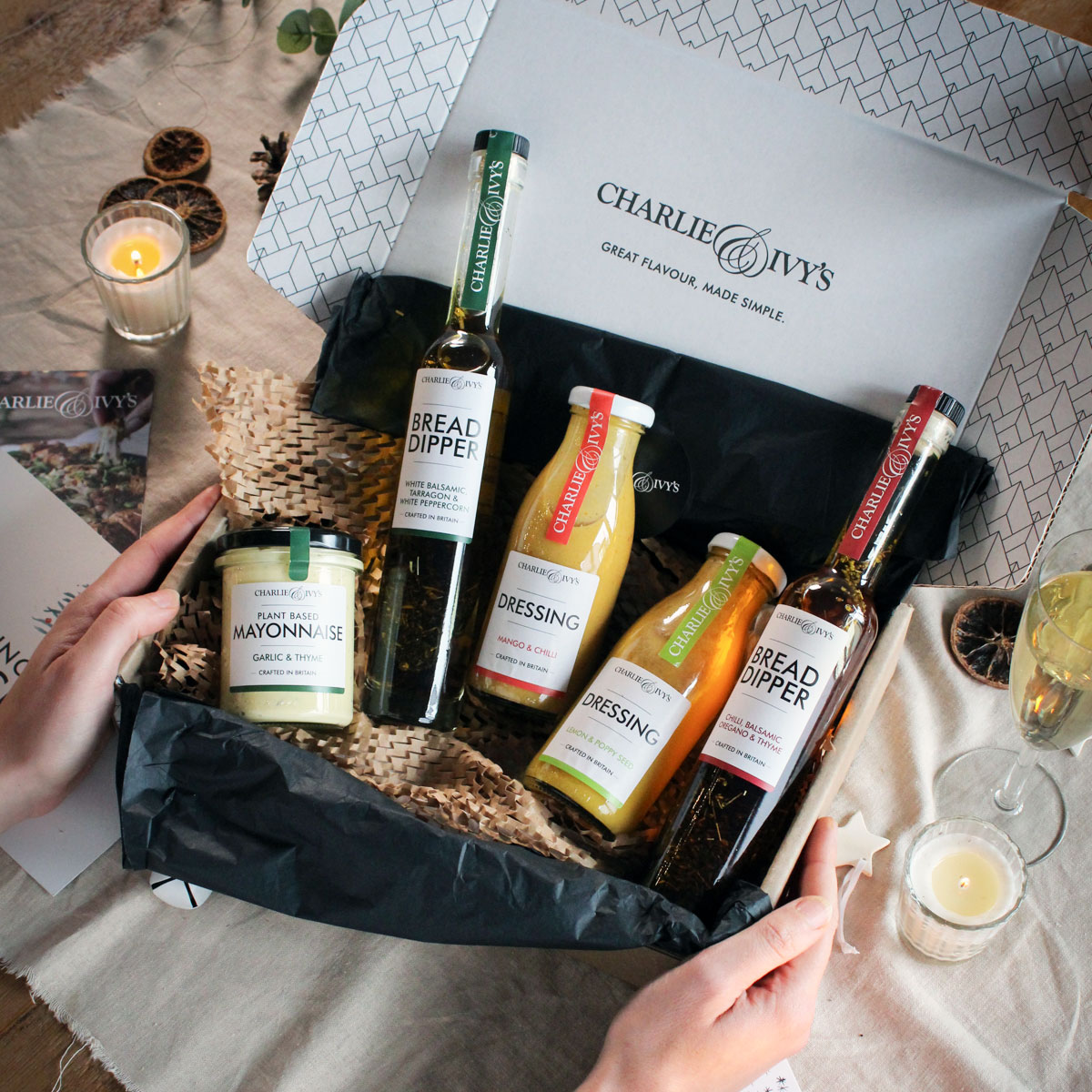 HAPPY CHRISTMAS FOODIE GIFT BOX
Looking for a unique Christmas gift? Then look no further! Build the perfect foodie gift for friends and family with our Bread Dippers, Dressings, Marinades and Mayonnaise, you even choose a beautiful unique Christmas card to be added to your gift.
from £30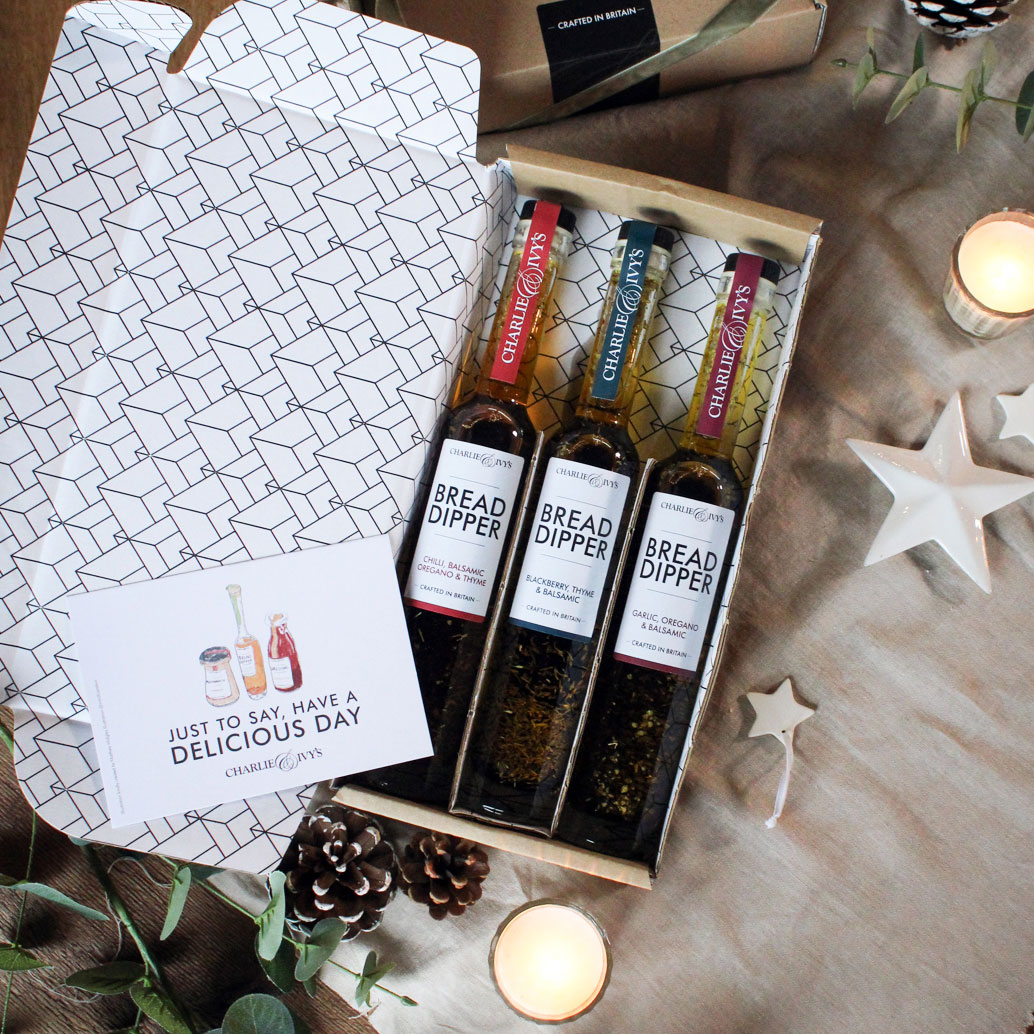 CHOOSE YOUR OWN TRIO OF DIPPERS
Choose your favourite three flavours from our eight 200ml bottles of bread dipping oil. Perfect to dip, drizzle, dress and cook!
£19.00
ON THE BLOG...
If you're looking to make the foodies in your life jump for joy this Christmas, you've come to the right place. At Charlie & Ivy's we know that finding the perfect gift for a food lover can sometimes be a little daunting, especially at Christmas time when we can all feel a little under pressure and we want to make that gift extra special and tailored to their taste(buds)...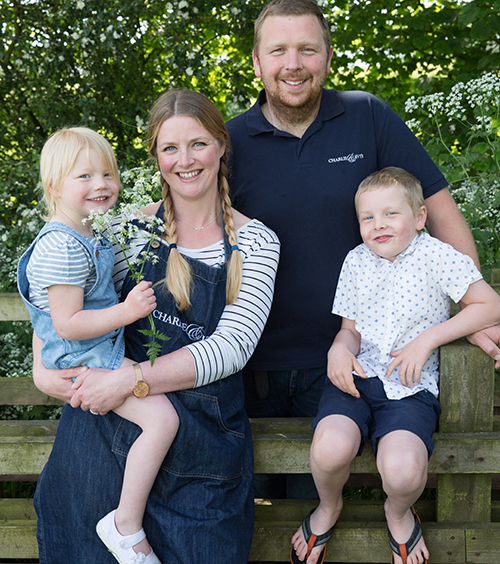 A FAMILY ABOUT FLAVOUR
BASED IN THE HEART OF YORKSHIRE OUR MISSION IS SIMPLE. TO CREATE THE VERY BEST ARTISAN PRODUCTS, THAT ARE EASY TO USE AND INSPIRE PEOPLE TO ENJOY SIMPLE, DELICIOUS FOOD, EVERY DAY.
Charlie & Ivy's is a family business, launched in 2014 from a desire to create simple, great tasting food. All of our products are made by us, the Palmer family and our team, on our farm on the Yorkshire Wolds. We take huge care and pride in every step of the process, from developing our recipes to designing our labels and packaging. Each and every product is made here by us, ensuring the highest quality products for you to enjoy.
THINK OUTSIDE THE BOTTLE
Check out our recipes for super simple suppers, delicious party food and fabulously flavoursome treats. Think outside the bottle and take a look through our recipe collection for a bit of home crafted culinary inspiration.
DISCOVER OUR FESTIVE RECIPES